MINI. MAX. ADVENTURE.
A few weeks ago, a friend in the world of car sales mentioned she had found the perfect vehicle for our road trips. Though not currently on the hunt for a new car, we asked about a test drive out of complete curiosity.
A very lonnnnnng test drive.
Two weeks and a couple of calls later, we're on our way to Portadown and Prentice MINI, to pick up the big 2017 Countryman.
FOUR LEGS MEETS FOUR WHEELS
Documents signed and all features demo'd, it was back up the road to pack for the weekend's MINI Adventure.
MI-NI Explorer.
So many pun options already.
RENDEZVOUS, SATURDAY, 9AM
As well as Max, a few other friends would be coming along on this adventure. So on a grey Saturday morning we met at Loughshore, Whiteabbey, for a quick route plan, kit check and for everyone to have a quick look around our temporary toy.
First up, testing the remote boot opening, with adjustable height should you need shelter from the rain. Likely on a dark day like today....
Instant distractions. As well as people stopping to ask about the car and then the rain coming on, 4-month old 'Freddie' wanted to get involved in the action. Looks like reciprocating head shakes is how dogs say hello in 2017.
Already behind schedule, we go further behind as we head for a quick dander to look at something we spotted in the distance...
...a big fat seal having a snooze on a rock. Freddie's owner shouts from a distance "he's been coming here for years".
We ponder, '"how does he know it's the same seal?"
"That's nice", we shout back. Not really knowing what to say.
...but first a moment to acknowledge the fact there are two adult full-suspension mountain bikes in there, plus 2 sleeping bags, 2 backpacks, 2 holdalls, a tent and whatever else I'm forgetting to list. Yet still plenty of space for Maximilian. The handy little hanging mesh/netting attachments were handy as heck, strong enough to keep things in the right place but not as bulky as having the seats up. High five MINI.
Oh yeah, forgot to say, we're going mountain biking and camping.
LET'S GO!
Normally we'd make more of the journey to wherever we're going, but it rained pretty much the entire time. Plus, with departing late, we figured it best to just get down to the hills asap and make more of the journey on the way back up tomorrow.
KILBRONEY FOREST PARK - ROSTREVOR
Arriving into the forest, the road to the car park halfway up the mountain was always going to be great for testing the automatic four-wheel drive feature of this All4 Countryman model. Like glue.
(Big thanks to our friend Jonny, off of Jonny Clyde Photography for these shots above and below.)
WE'VE REACHED THE TOP
Well, the higher car park anyway. As the only way to get to the top of the mountain is on bike or foot. A steep climb in places, but well worth it.
But first, time to gear up.
With the low, dark clouds, views were a little limited but still great. The weather was changing so much though that we were still hopeful of a bit of sunshine at some stage.
Below is what you normally see from the first look-out point, the aptly-named 'Kodak Corner' - unfortunately our views on the day were a wall of grey. Still one of our favourite views in Northern Ireland (looking across to Carlingford).
After a 30 minute climb we finally did reach the top. Let the free-wheeling, dog sprinting, fun descent commence...
Skipping forward an hour though and reaching the bottom of the mountain, the sun came out. Sod's law!
Better views of the divider net and space in the pic above (the wonky-ness is from us not having the bottom right hook fixed - it's normally quite taught). we've also a boot-liner down to protect the car from muck, hair and the rigid edges on the bikes. Take our word that underneath there's quality creamy-coloured leather and a handy 'out of view' storage decent-sized storage compartment for your valuables.
HOME FOR THE NIGHT
...and for Max to turn into floating-ghost-headbutting-camera-dog.
Naturally.
NEXT MORNING
After a fairly comfortable night's sleep, we woke to find another dog had lovingly snuggled up to the Countryman in the early hours of the morning. We can only presume the presence and protection of the Countryman's large rear bumper area made for the perfect spot to sit for a bit.
And relax.
Too much.
Sorry.
Swiftly moving on, after a well-needed sausage-egg-soda-breakfast, we had a quick walk around Kilbroney Park.
Check out those clouds - sun one minute, rain the next.
This actually looks like a great one for kids, the Narnia Trail. More info here.
But our priority for the day was to head up through Rostrevor, a road we had never travelled before.
So after getting most kit and Max loaded up (check out the built-in MINI picnic bench for resting your butt or avoiding any dog-nail-scrapes on the bumper) ...
...there was just enough time to stand in that flipping dog pile mentioned before, having successfully evaded right up until loading the final bag. Aaargh!
KILBRONEY~ROSTREVOR ROAD (heading towards Hilltown)
Shoe cleaned and just ten minutes drive later, we knew this route was a great decision. On top of the sun staying out for a little longer than it had done all weekend, we spotted in the wing mirror this epic view as the road swept down to the bay at Rostrevor.
Naturally we had to turn round for some cliché vista shots. NI Explorer to be the next Top Gear presenter? No, me neither :)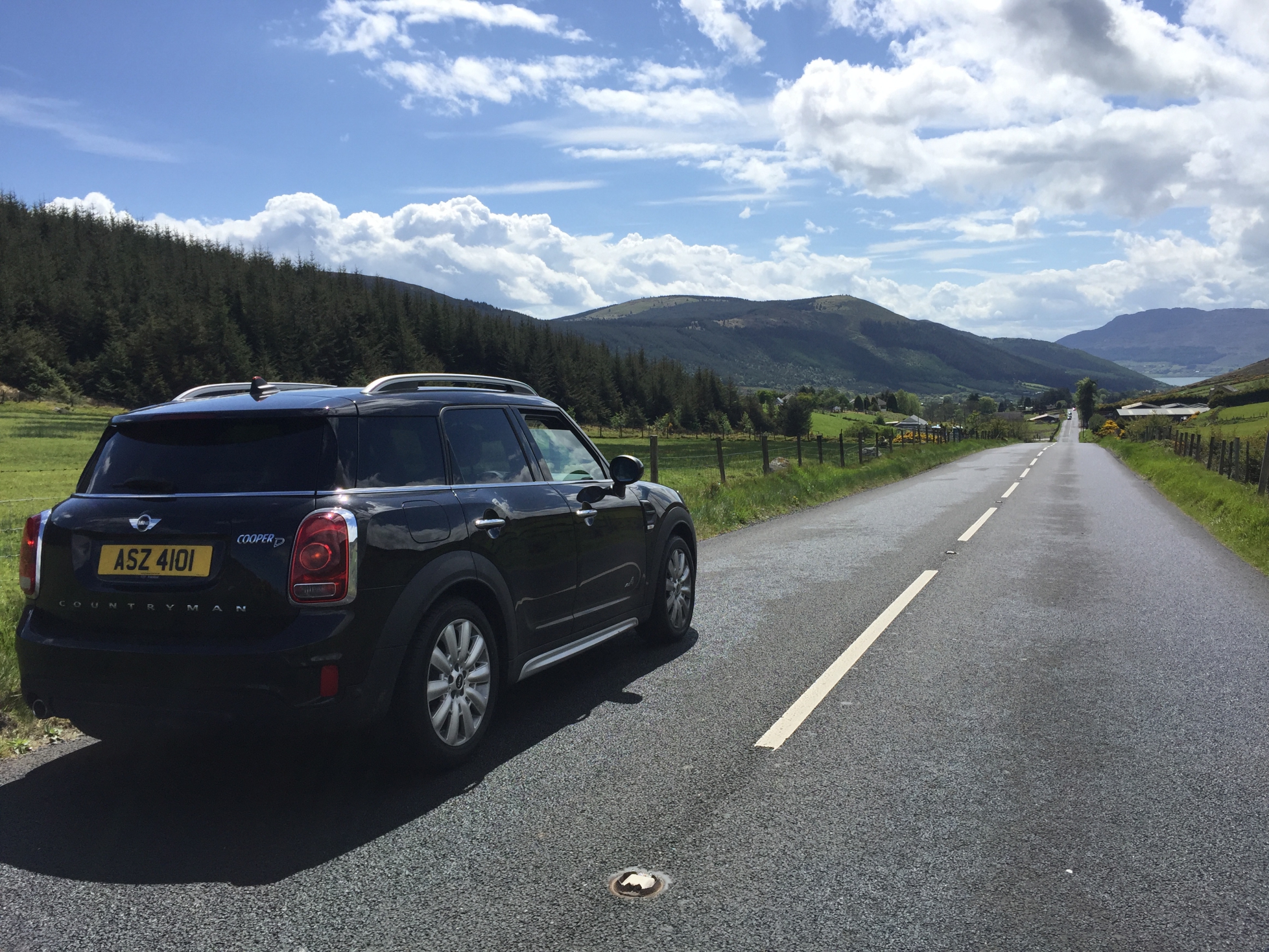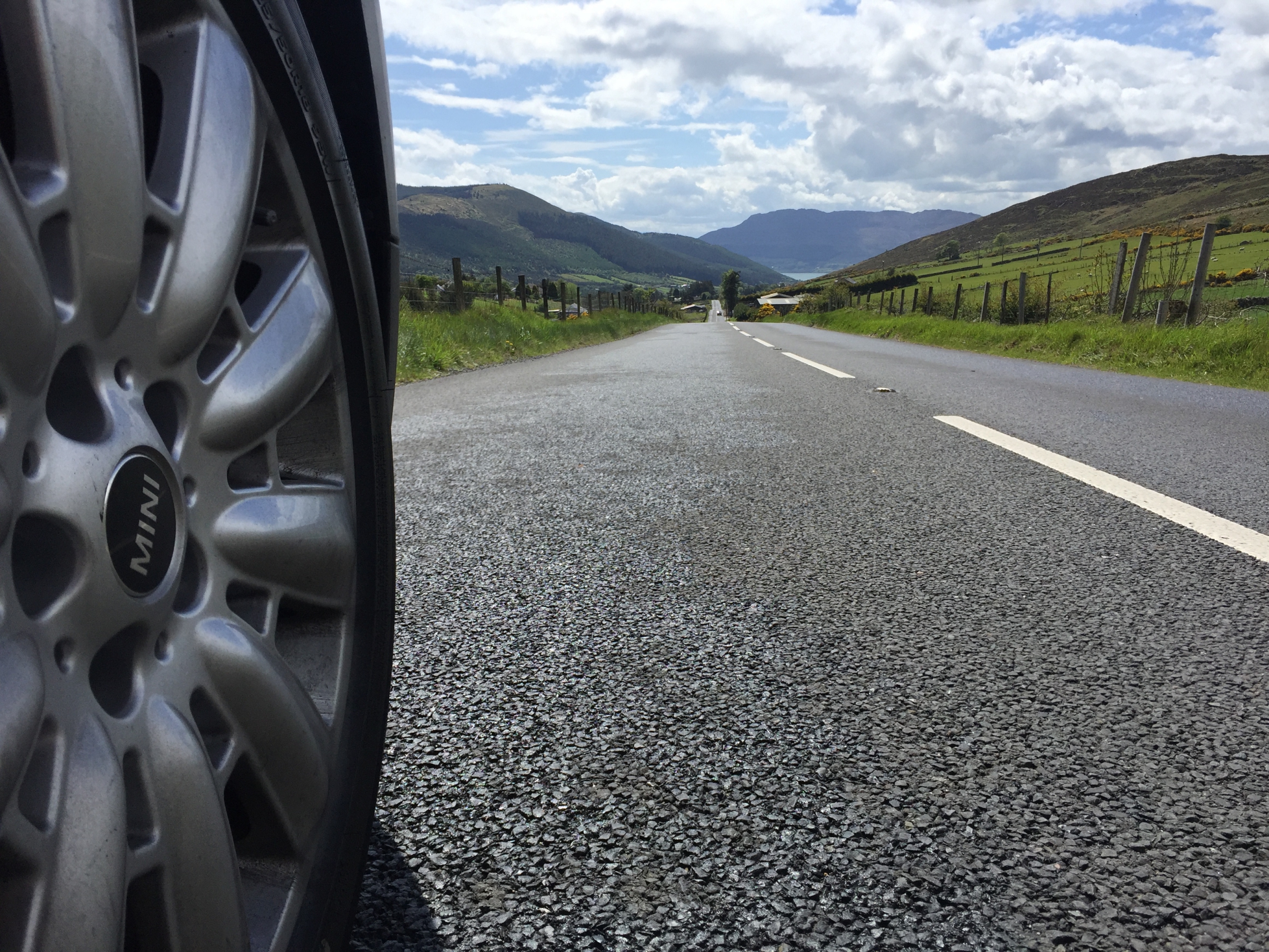 NEXT PIT-STOP, HILLTOWN
Just another ten minutes drive further north is Hilltown and its cracking views of the back of the Mournes. The perfect place to stop, have a snack and and finally have a proper nosy around the Countryman.
The back of the car is probably our favourite area , both for the amount of gear we were able to load in with ease and for some of its smartest tech, like the remote, variable-height boot opening, the mesh cabin dividers and the built-in picnic bench....
...and also the fact you can open the boot just by swiping your food underneath the tailgate. Perfect for when your hands are full.
And then there's the tech-heavy cockpit. Needless to say, more than the standard mod cons included.
This was also the first time we've driven an automatic gearbox car for more than 10 minutes. We very quickly got used to the luxury of letting the car figure out all the gear-changing needed on the various terrain.
Check out this bee that got in on the action too. Clearly wanting me to be friendly to the environment and opt for 'Green Mode'...covering the 'Maximum Go Kart Feel' sport mode option.
How much more at one with the outdoors could this car bee?
HA! Bee.
A massive thank you goes to the team at Prentice MINI for letting us experience this superb car that added so much to the road trip.
Big thanks also for road-trip buddies Jonny Clyde, Bryzo and David from Soarscape - who tried his best to get some aerial shots in between the rain.
And where this story began, the MINI Countryman ad that really struck a chord...