FAIR HEAD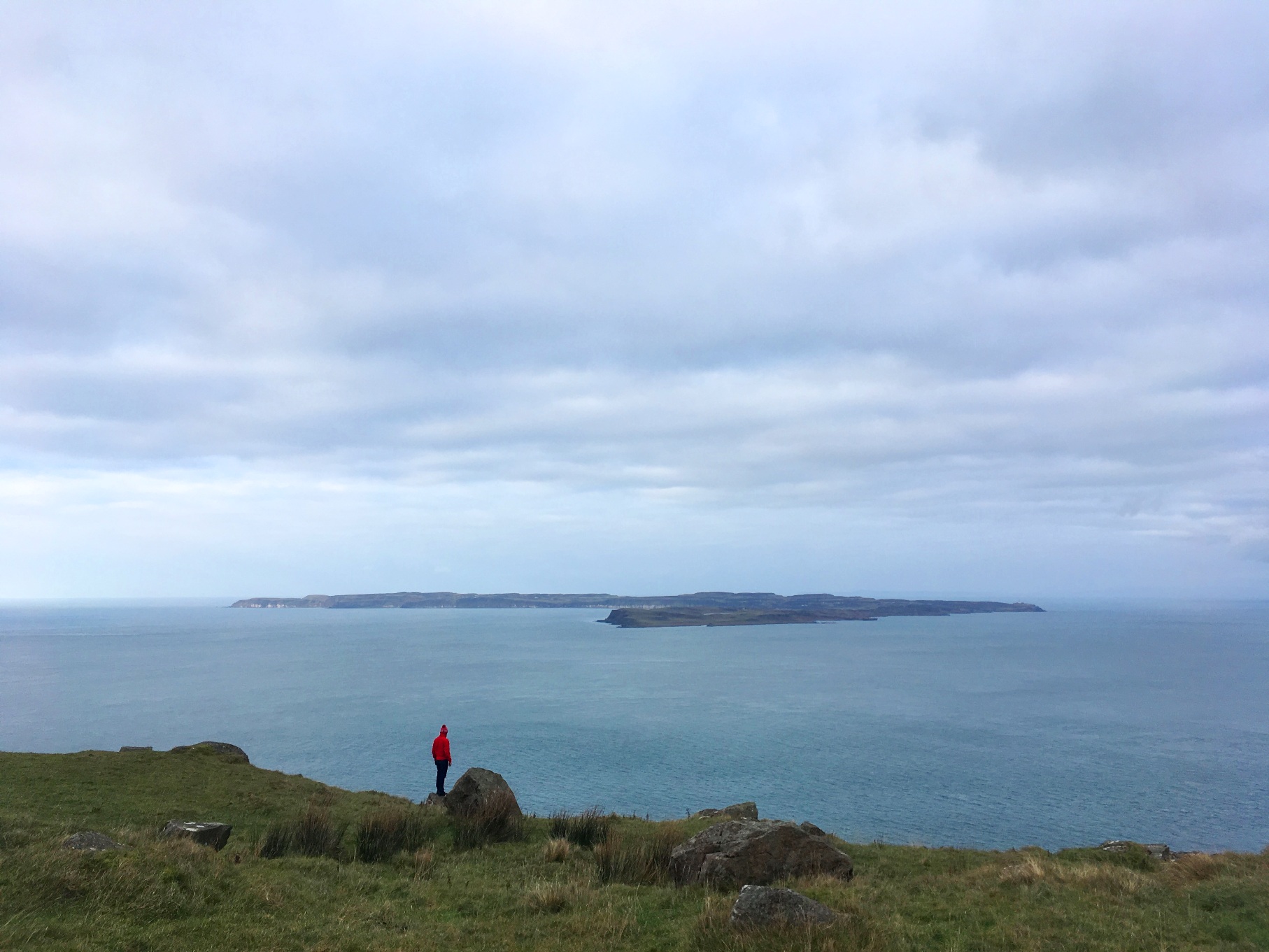 …or is it one word, Fairhead?
Even if you haven't heard of here, it's likely you already know what it looks like.
Have you driven along Northern Ireland's Causeway Coastal route and seen this outline in the distance, beyond Ballycastle?
Or maybe this view below, a few miles across the water on Rathlin Island? (Check out that adventure here)
It's where this little collapsed rock can be found - wedged between a gap in the 200m high cliffs.
Fear of heights anyone?
Fair Head's popularity was given a further boost in 2017, when HBO series Game of Thrones used it as a filming location for Season 7.
The stunning County Antrim coastal cliffs were filmed as part of 'Dragonstone' island, where characters Jon Snow and Tyrion Lannister finally met the 'Queen of Dragons' Daenerys Targaryen.
Fancy taking in these views?

HOW TO GET TO FAIR HEAD
Fair Head is about 1 hour 20 minutes from either Belfast or Derry~L'derry. Simply head towards the north coast (Causeway Coast) and then follow the signs to Ballycastle.
From there, the brown signs easily guide the way (about 10-15 minutes drive).

FAIR HEAD FACILITIES
The basic car park is easily found.
Judging by the honesty box payment method, we're presuming this is privately run. From what we could see, there are no facilities available - so buy/do what you need back in Ballycastle.
Presumably, in the busier tourist season (April to Oct), you may find a coffee van parked up.
In the car park, make sure to read (and take a photo of as a reminder) the info point below.
Quick tip: Walking boots would be ideal - but trainers are fine as long as you don't mind getting them a bit muddy.
Important tip: You will be walking to a CLIFFTOP which has NO safety railings in place. Keep well back from the edge, especially if there is any type of breeze. You will also pass grazing animals as this is private land - no dogs are allowed on this walk.

START WALKING
We recommend following the route clockwise - this allows you to decide halfway through whether to take the shorter or longer route back (depending on how much time you have after visiting the cliffs).
So to start the walk, head back out of the entrance you drove in from.
First hurdle. You take a right at the point above, to get to the cliffs.
But quickly, go check out the view over to the left…
Nice!
Even better views to come though, so head back to the road and cross over the other side of the fence.
In no time you'll be getting incredible views of the coast and out to Rathlin Island - even on a grey day like this.
A little further - keep an eye out for the small route markers - and you'll catch first sight of the famous cliffs.
And realise how high up you are.
Again - don't take any unnecessary risks for a photo and keep young'ns close!
The views inland are equally as great. ..
You'll have already noticed a stretch of water on your way here.
Lough Na Cranagh - with its Iron-age man-made island in the middle - was in sight before you arrived at the car park.
The one closest to the cliffs (in the pic above) is Lough Dubh (pronounced 'Doo', meaning 'Black Lough' in Irish).
As we walked across the narrow gap between the Lough and cliff edge, we spotted abandoned climbing gear - eerily, there was even a pair of shoes lying a short distance away.
After 5 minutes of wondering whether to call the emergency services and scanning the area for climbers, we spotted a little red dot three-quarters of the way down the cliff face.
You might need to zoom in to see them - they're tiny in comparison to the rock.
It's at this point you have two choices - the longer route on along the cliffs, or follow the edge of Lough Dubh back, the shorter route.
We opted for the shorter route, with hunger in the belly.
While the path to here has been worn-down grass (and mud in places), from here back you'll be on stony road again (just like the very start of the walk.
You'll soon reach the picturesque Lough Na Cranagh…
…and in about 15 minutes, you'll pass through a private farmyard and into the car park you set off from.
HANDY MAP
Hopefully the below is of use - save it to your phone before you go.
We've overlaid our route onto a Google satellite-view map - you can see from the cliff shadows at the top that we only covered a small part of them on the shorter walk; yet the views were still incredible.
The longer walking route continues on along the cliffs.
At the bottom of the map is the car park you start and finish.
Check out this drone vid of the area…
Enjoy! And don't forget to tag us in any pics you post on social media…
#NIEXPLORER
DON'T MISS OUT!
Want more road trip and adventure inspiration?
Receive our free newsletter straight to your inbox - you'll get the latest road trip and adventure ideas, giveaways, events news and local promotions straight to your inbox. Register here.
MORE CAUSEWAY ADVENTURES >>>