SUNFLOWER FIELDS IN NORTHERN IRELAND!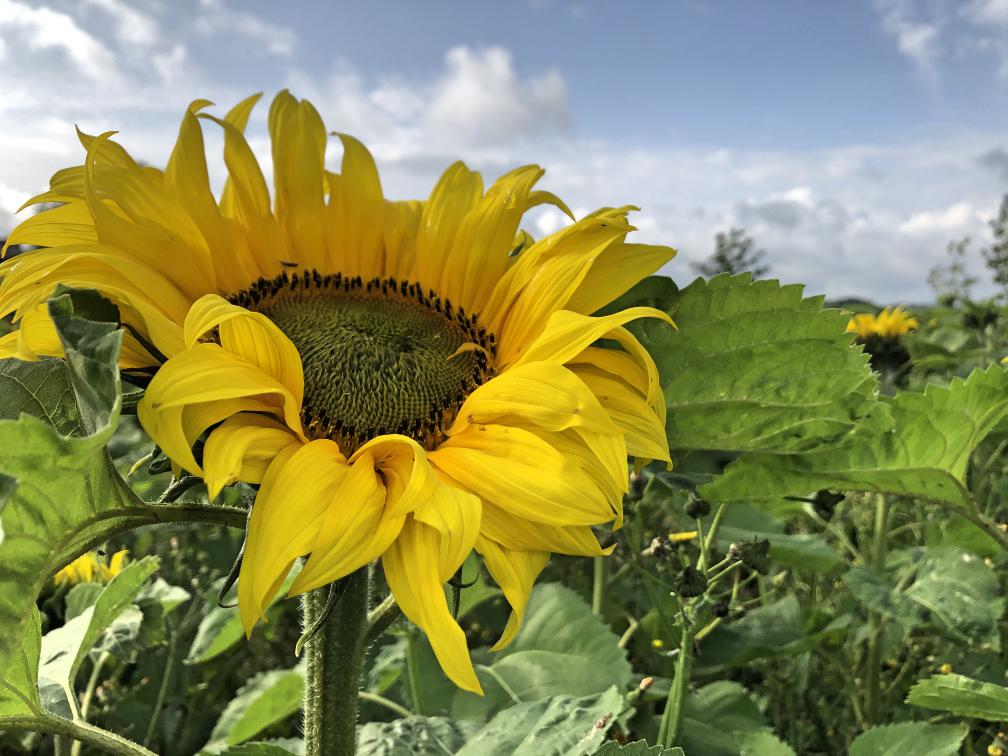 2019 SUNFLOWER SEASON
Last year's heatwave had the golden giants up and open early. This year, it's been a bit cooler and wetter…but as of Wednesday 7th August 2019…
THE PORTGLENONE SUNFLOWER FIELD IS OPEN!
For a few months we've had people asking us if they can go visit (after seeing our original 2018 article further below). While we've stayed in touch with the field owners, the unpredictable weather has made it difficult to plan an opening date.
But with the sunflowers now standing at six feet (some taller) and their golden heads opening, the wait is finally over.
More info below - but if you want more free ideas on things to see and do on your adventures in (& from) Northern Ireland, register for our free email newsletter (opens in new window so you don't lose your space here)
As well as the acre of sunflowers, there's a bigger wildflower area this year, a new "butterfly hotel" (plants that they love to visit 😊) and much more.
We had the place to ourselves today, for a walk around with the field owner ahead of the public opening.
You'll be getting better pics than us though, as more sunflowers will be popping over the next 7-10 days!
Make sure you get there during August or early September, as they're at their prime for around 4 weeks.
Money is being raised for Macmillan in Northern Ireland - entry to the field is £2 per adult, £1 per child (5-16 yrs) and under 5yrs go free.
Dogs are free too :)
Please note: Scout is only off her lead for a couple of pics as we had the field to ourselves (with the field owner), and we were standing just out of shot, to make sure she didn't chase the birds among the sunflowers! All dogs to be on leads at all times.
PLAN YOUR TRIP
Parking: As you can see from the pic above (or this Google Maps link), you'll have to leave your car at the side of the road. Take care when exiting your car - especially with kids and dogs. Also, don't park close to a junction or entrance, as large tractors and lorries frequently use these roads and need more space to turn.
Dogs - As mentioned above, they MUST be kept on a lead. You might 'know' your dog is OK off the lead, but others don't; especially children. The wildflowers can also be easily damaged by even the smallest pooch paws.

Path: Follow the blue rope when you're in the field - just like with the pooches. You'll be able to walk through the sunflowers and loop around the edge to where the wildflowers are. Keep children in sight as the sunflowers are dense!

Taking home sunflowers: You'll be able to pay for some freshly cut sunflowers as you leave; please don't be cutting any yourself.

Toilets: There's a single temporary portaloo just beside the entrance.

Rubbish: Presume there will be no bin. Bring a plastic bag and take your litter away. If you see any lying about, be dead on and even lift a couple of bits 👍

Footwear: It can get mucky if it's been raining in the last week. Bring a spare pair to be safe
DIRECTIONS TO PORTGLENONE SUNFLOWER FIELD
First, get yourself to Portglenone. In the town centre, take the Gorgole Road heading north. After about five minutes driving, you'll see the field on your left hand side.
If you spot the Killycoogan Road on our right hand side, you've gone too far :)
If you're getting a sunflower selfie, don't forget to tag us in it (or use #NIEXPLORER on Instagram) 👍
Also, follow their official Facebook page here for the latest updates.
As you'll see from our original article below, there's a second great sunflower field near Ardstraw, County Tyrone. If you know the field owner - or if the field there is open - send us an email as we'd love to visit there too: hello@niexplorer.com
FREE Email Newsletter
For more great ideas on road trips, adventures, things to see and do in (& from) Northern Ireland, leave us a few details via the button below…
THE ORIGINAL 2018 SUNFLOWERS ARTICLE BELOW 👇
Social media in Northern Ireland has been b(l)ooming recently with images of sunflowers!
Ever since Van Gogh famously painted a bunch of them over a century ago, sunflowers and happiness have gone hand in hand. Whether you spot them in your local florist or your neighbour's back garden – the flowering giants are an eye-catcher.
Top Image: Paul Morrison
Did you know?
Sunflowers are native to North America, have been traced as far back as 3000 B.C. and can grow up to 3 metres tall!
WHAT, HOW, WHERE?
The sunflower phenomenon in Northern Ireland first gained media attention in 2017. In West Tyrone, local man Allan Rainey had been planting sunflower fields each spring for five years – first as an environmental project and then to help raise awareness and donations for a cancer charity.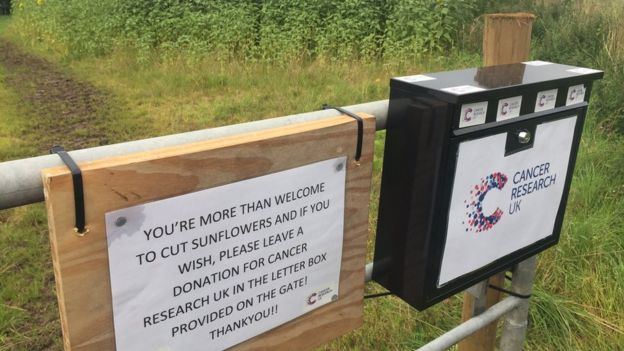 ARDSTRAW SUNFLOWER FIELD - NEWTOWNSTEWART, CO. TYRONE
Last year's flourishing field on the Ardstraw Road, near Omagh, returned with a bang this year – the brilliant weather from May playing a vital part.
Images: (Instagram): @tomleseeleeur & @fionaanderson
PORTGLENONE SUNFLOWER FIELD, CO. ANTRIM
And if west Tyrone is a little out of your way, on the Gortgole Road just outside Portglenone, another field has people flocking for pics with it's 175,000 flowers.
The McAllister family's field is also for a good cause, helping raise funds for Portglenone's St Mary's Parish.
SHARING THE LOVE
If you're at either of the fields this year, tag us in your pics on Instagram and Twitter. On Facebook, you can message us or mention us in your pics. We love to see and share your adventures!
#NIEXPLORER
LATEST NEWS & ADVENTURES AROUND NI 👇